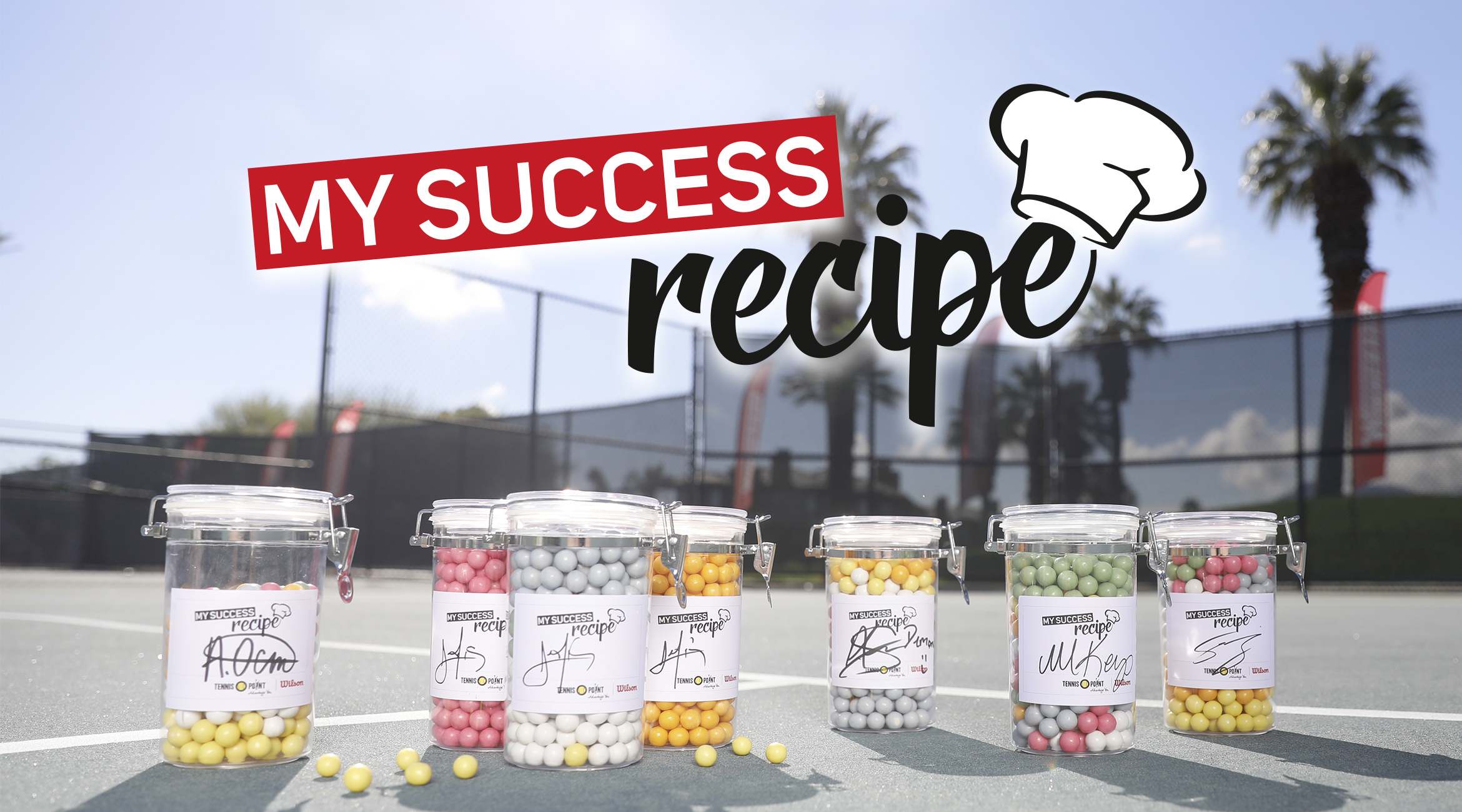 my success recipe
Tennis-Point and Wilson have activated a special for you: Six Wilson professionals are dipping deeply into the chewing gum pot in order to mix their own personal success recipes. The ingredients: Hard work, fun, passion, endurance, talent and mental strength.
‍
The main characters: Grigor Dimitrov, Madison Keys, Alex de Minaur, Jelena Ostapenko, Gael Monfils and Stefanos Tsitsipas.
‍
All six Wilson professionals have received a jar from us to pull out the six differently coloured chewing gum balls in order to decide their personal success recipe. The result at the end being: Each of the Wilson professionals has a jar filled with varying colour combinations.
‍
In the coming weeks over Instagram we are raffling these six success recipes with their signatures!
‍
Good luck!


Grigor Dimitrow
The ATP-Finals-champion from 2017 has his jar so full of chewing gum balls that he can no longer put the lid on. Hard work, talent and fun are the main ingredients for the pleasant Bulgarian. Try your luck and win Grigors success recipe in our competition!
TO the Instagram competition
Madison Keys
The US Open finalist from 2017 is not really a chewing gum fan. The 25 year old US American however, concocted her success recipe with much pleasure and a large portion of determination. This is where you could win Madison's jar.
TO the Instagram competition
Alex de Minaur
The flink Australian is well known as a hard worker. It is therefore no great surprise to note that Minaur has filled his pot with lots of grey chewing gums accorded to that characteristic. The 21 year old Australian would really have liked to spoon out the complete jar. Win his success recipe now!
TO the Instagram competition
Jelena Ostapenko
The French-Open winner from 2017 is well known for her relentless power tennis. In order to strike the ball so hard and accurately, a lot of talent is needed. No wonder that the yellow chewing gums are the main ingredient for Ostapenkos' success recipe. Have a chance to win it!
TO the Instagram competition
Gaël Monfils
Extrovert, wild and always ready for fun, that is Gael Monfils. Added to that are the cooking talent of the crazy Frenchman. "Le Monf" has concocted three success recipes. However the first two comprise just fun and passion. Typically Monfils!
TO the Instagram competition
Stefanos Tsitsipas
The ATP-Finals winner from 2019 is a young player with a wide range of interests. Just as colourful as is the success recipe of the 22 year old Greek. Tsitsipas was so engrossed in his element that he nearly forgot one important ingredient. With a little luck you could discover which!
TO the Instagram competition