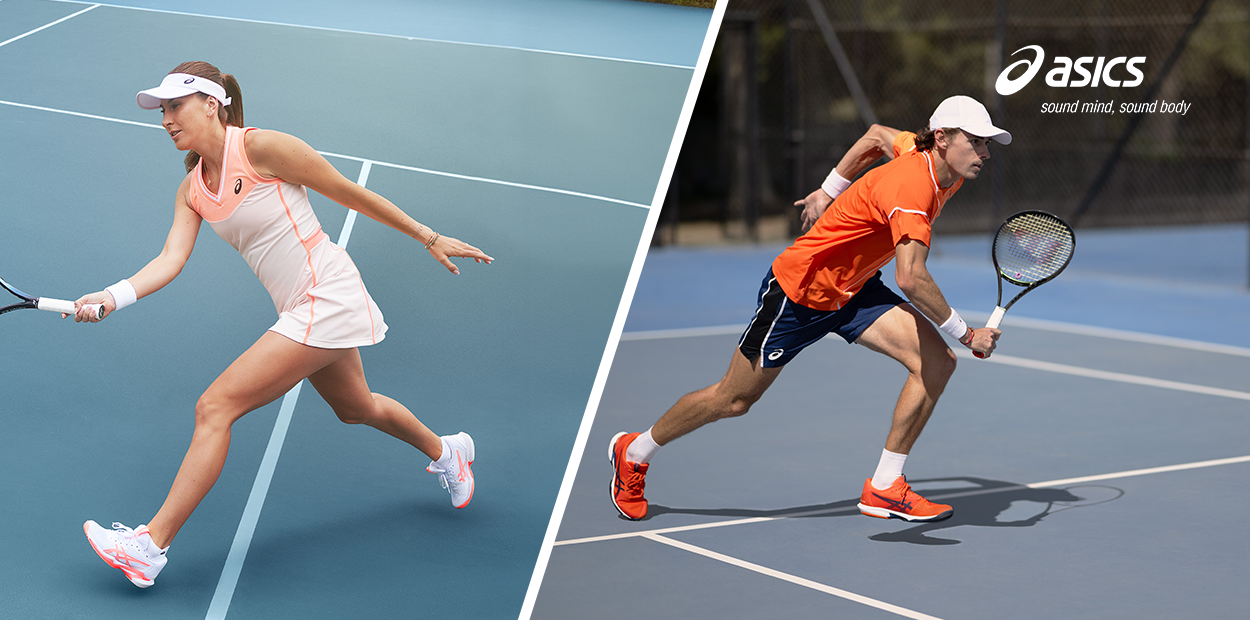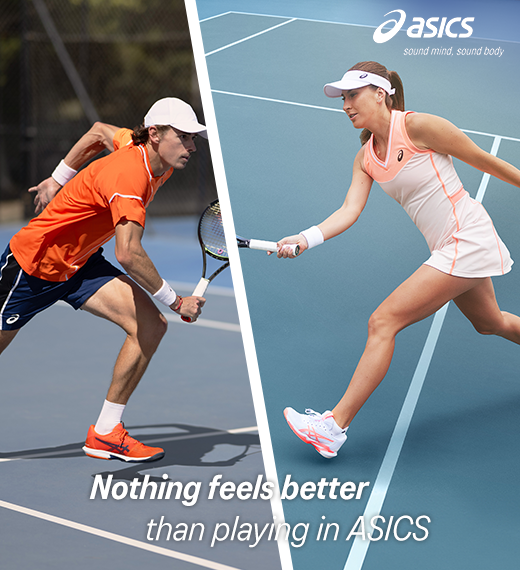 Asics Brand Shop
Go big with tennis shoes & tennis fashion from ASICS
The Japanese sports goods manufacturer ASICS has traditionally made a big name for itself with its innovative and high-quality sports shoes, especially among running athletes. ASICS is also very popular in tennis, where ASICS tennis shoes and ASICS tennis clothing have established themselves as the absolute top brand for tennis players. Here, too, the ASICS outfit is convincing thanks to its high quality and great design.
Asics
TOP products
High Quality & Cool Tennis Shoes from ASICS
Whether you are a recreational player or an ambitious tournament player, the right choice of tennis shoes is of particular importance, as your feet and joints are exposed to extreme stress during tennis due to the constant changes of direction and fast sprints. Therefore, high-quality ASICS shoes are a decisive factor for your success on the court and for your health.

In addition to the fashionable design, ASICS tennis shoes also impress with their optimal functionality. Effective cushioning protects the joints and provides optimal relief for the entire musculoskeletal system. Clever materials are used to stabilise the feet and prevent twisting. With ASICS tennis shoes, you will always have optimal support and the right amount of freedom of movement in your long and hard-fought tennis matches.
‍
As a tennis player, you usually need at least two pairs of tennis shoes: ASICS clay court shoes are suitable for the summer season and ASICS carpet shoes for indoor training in the winter months. Your ASICS indoor tennis shoes have a smooth tread, whereas the tennis shoes for playing on clay or granules have much more tread. ASICS all-court shoes are also very popular and are multi-talented for any surface.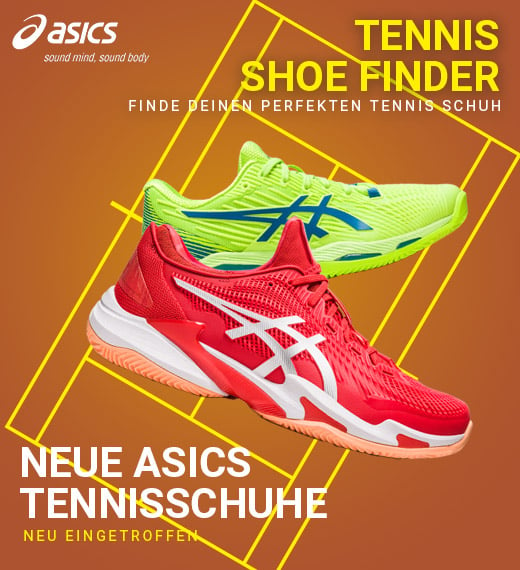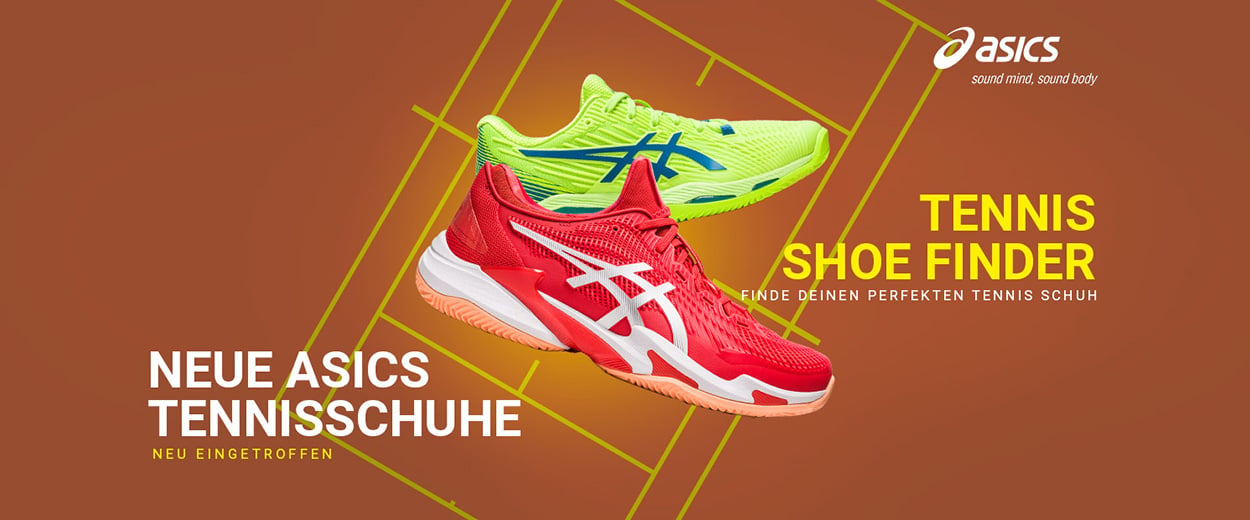 ASICS - a healthy mind lives in a healthy body
ASICS was founded in 1949 in Kobe, Japan by Kihachiro Onitsuka under the name "Onistuka Co" and now has branches all over the world. When he founded the company, the Japanese had the vision of producing sports shoes that would help sports enthusiasts all over the world to achieve their personal goals in a healthy way and to enjoy exercise through the best equipment.
‍
What was once a small shoe manufacturer has long since become a large global company that has lived and pursued this philosophy for over six decades. The current company name ASICS was created in 1977 after a merger with two other sports companies. The name was derived from the Latin saying "Anima Sana in Corpore Sano". This means "a healthy mind in a healthy body". The so-called tiger stripes and the ∂ in front of the ASICS lettering serve as the ASICS trademark.
ASICS - a brand with a clear vision
The ASICS brand stands for outstanding sports equipment and a particularly intensive connection to sports and athletes. The ASICS company pursues a clear goal: to develop innovations and revolutionary technologies for ASICS sports shoes and textiles that reliably help you on your personal path to a healthy mind in a healthy body.

The innovative ASICS running shoes have been met with enthusiasm for decades. But ASICS has also gained an excellent reputation as a top sports brand outside the running scene, for example in tennis. The company shines in tennis shoes and tennis clothing with a chic style and top workmanship. asics Stars
Buy Stylish Tennis Collections by ASICS
Successful tennis stars like Novak Djokovic, David Goffin, Alex de Minaur, Borna Coric and Matteo Berrettini wear ASICS tennis shoes during their exciting appearances at Grand Slam tournaments. See which other top stars on the ATP and WTA Tour prefer the latest ASICS collections for their exciting matches in our "Pros" section.

Great ASICS tennis clothing for women, men and kids
Even though ASICS traditionally focuses on footwear for athletes, the company can also score points in tennis fashion with chic clothing lines and accessories for tennis players. The ASICS shop at Tennis-Point offers you a huge range of ASICS clothing for men, women, girls and boys. Among the tennis ladies, the great ASICS tennis dresses and skirts as well as the ASICS sports bras and tank tops are very popular.